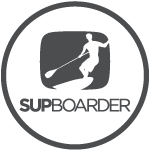 SUP BOARDER AWARD – BEST LONGBOARD SUP read more >
CLASSIC STYLE, MODERN CONSTRUCTION
LOW VOLUME THINNED OUT RAILS
• Easily engage with minimal foot pressure, giving control down the wave face and hold through steeper sections of the wave.
• Ultra-responsive and sensitive to turn direction with speed and control.
PARALLEL OUTLINE
Parallel straight outline in the midpoint provides a smooth fast glide that is easy to trim the board.
TIMELESS LOOK, SOLID PERFORMANCE
• Twin T-stringers made from glass fibre are positioned on the deck and bottom of the board close to the rail, providing a massive increase in the overall strength against total breakage in the surf.
• An additional wide layer of 200g glass wraps the rails for higher strength against paddle impact and further reinforces the overall strength against buckling.
• The deck features reinforced biaxial glass and Australian pine, to resist heel dents and impact from the standing area.
• The nose and tail are wrapped in multiple layers of glass fiber for further strength on these impact zones.
DURABLE, SCRATCH AND IMPACT RESISTANT WOVEN RAIL PROTECTION
• Ultra-durable, scratch and impact resistant woven 200g twill azure rail protection.
• The combination of twin T-stringers deck and bottom to protect against total breakage. The T-stringers are positioned close to the rail working like an i-beam to endure heavy drops and strong wipeouts.
• Starlite now features a full deck of 0.6mm Australian pine wood which is sandwiched between 2 glass outer skins, increasing the overall total breakage strength and reducing the weight due to lower resin absorption.